Hidden Gulch is the sixth level in Orcs Must Die! 2. Upon its completion the Haymaker is unlocked.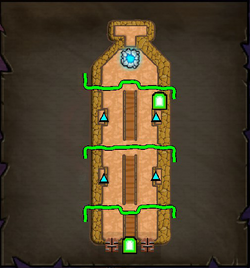 Bilebats make their first appearance in this level.
Level Description
General:
Entrance Rifts: 1
Flyer Entrances: 1
Exit Doors: 2
Waves: 9
Completion Time (par): 17:00
Starting Money: 4000 (Endless: 6000)
Traps:
Strategy
The platforms with Archer Guardians are a great place for additional archers on War Mage difficulty, as it renders the archers unreachable by melee enemies. However, beware of Gnoll Grenadiers on Endless or Nightmare.
Soundtrack
Preparation Track :Apocalypstick
Battle Track :Bar Fight