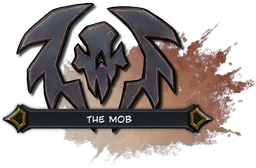 The Mob or The Horde is the legion of orcs and their allies that the War Mage or the Sorceress face in Orcs Must Die! or Orcs Must Die! 2.
Lore
Unreasoning, numberless legions of orcs and ogres smash against fortress gates night and day – and sometimes, they even break through. No one knows what they want; all anyone knows is that there are a lot of them, and they're really, really angry.[1]
Overview of enemies in Orcs Must Die!
Overview of enemies in Orcs Must Die! 2
| | Health | Attack | Speed | Reward | Rift Points | Multipliers | Characteristics |
| --- | --- | --- | --- | --- | --- | --- | --- |
| Light Orc Warrior | 50 | 20 | 300 | 10  | 1 | Burning*5 ; Bleeding*2.5 | May have shield |
| Medium Orc Warrior | 80 | 24 | 300 | 15  | 1 | Burning*8 ; Bleeding*4 | May have shield |
| Heavy Orc Warrior | 120 | 28 | 300 | 20  | 1 | Burning*12.5 ; Bleeding*6.25 | May have shield |
| Earth Lord | 300 | 50 | 200 | 0  | 4 | Acid/2 ; Lightning/3 ; Piercing/4 ; Cutting/2 ; Explosive*2 | Spawns 2 Earth Elementals on death; Very heavy; Immune to poison, burning and bleed |
| Earth Elemental | 150 | 25 | 300 | 0  | 2 | Acid/2 ; Lightning/3 ; Piercing/3 ; Cutting/2 ; Explosive*2 | Spawns 2 Earthlings on death; Heavy; Immune to poison, burning and bleed |
| Earthling | 40 | 12.5 | 400 | 20  | 1 | Acid/2 ; Lightning/3 ; Cutting/2 ; Explosive*2 | Won't attack players or guardians; Immune to poison, burning and bleed |
| Kobold Runner | 5 | 0 | 600 | 5 | 1 | Burning*2.5 ; Bleeding*2.5 | Won't attack players or guardians; Evades traps |
| Kobold Sapper | 5 | 75 | 600 | 5 | 0 | Burning*15 ; Bleeding*2 | Suicide bomber, targets barricades, guardians and players |
| Crossbow Orc | 60 | 20 | 300 | 15 | 1 | Burning*7 ; Bleeding*3.5 | Ranged attacker, targets guardians and players |
| Troll | 400 | 30 | 300 | 40 | 5 | Piercing/2 ; Lightning*2.5 ; Ice/2 ; Burning*20 ; Bleeding*10 ; Physics*2 | Regenerates health; Heavy; Immune to poison |
| Swamp Troll | 500 | 40 | 300 | 40  | 5 | Acid/2 ; Piercing/2 ; Lightning*2.5 ; Ice/2 ; Burning*25 ; Bleeding*12.5 ; Physics*2.5 | Regenerates health; Heavy; Immune to poison; Poisons targets |
| Mountain Troll | 700 | 50 | 200 | 80  | 10 | Piercing/3 ; Cutting/1.5 ; Explosive*2 ; Ice/2 ; Lightning*2.5 ; Burning*17.5 ; Bleeding*17.5 ; Physics*3.5 | Regenerates health; Very heavy; Immune to bleed, poison and stun |
| Ogre | 400 | 32|20|10 | 300 | 50 | 5 | Piercing/3 ; Burning*20 ; Bleeding*10 ; Physics*2 | Heavy; Attacks stun target |
| Fire Ogre | 500 | 32|20|10 | 300 | 50  | 5 | Piercing/4 ; Fire /5 ; Ice*2 ; Bleeding*12.5 ; Physics*2.5 | Heavy; Attacks stun target; Immune to burning (but not fire) |
| Frost Ogre | 600 | 32|25|20 | 300 | 50  | 5 | Piercing/4 ; Fire*2 ; Ice/5 ; Burning*65 ; Bleeding*16.25 ; Physics*3 | Heavy; Attacks stun target; Immune to frost (but not ice) |
| Armored Ogre | 800 | 50|25 | 300 | 100  | 10 | Cutting/1.33 ; Piercing/5 ; Burning*40 | Very heavy; Attacks stun target; Immune to bleed |
| Bilebat | 130 | 30 | 100 | 20 | 1 | Piercing*2.5 ; Cutting*2.5 ; Impact*2.5 ; Acid/5 ; Burning*13 ; Bleeding*6.5 | Flyer; Immune to poison; Attacks poison target |
| Frostbat | 130 | 25 | 100 | 20  | 1 | Piercing*2.5 ; Cutting*2.5 ; Impact*2.5 ; Fire*3 ; Ice/5 ; Burning*23 ; Bleeding*6.5 | Flyer; Immune to frost; Attacks freeze target |
| Thunderbat | 130 | 25 | 100 | 20  | 1 | Piercing*2.5 ; Cutting*2.5 ; Impact*2.5 ; Lightning/5 ; Burning*13 ; Bleeding*6.5 | Flyer; Attacks with lightning |
| Hellbat | 130 | 35 | 100 | 20  | 1 | Piercing*2.5 ; Cutting*2.5 ; Impact*2.5 ; Fire/5 ; Bleeding*6.5 | Flyer; Immune to burning; Attacks with fire |
| Fire Baby | 8 | 10 | 100 | 5 | 1 | Piercing*2.5 ; Cutting*2.5 ; Impact*2.5 ; Fire/25 ; Explosive/2.5 | Flyer; Immune to burning; Attacks with fire; Moves in swarms |
| Gnoll Hunter | 165 | 30 | 720 | 30  | 0 | Piercing/3 ; Burning*16.5 ; Bleeding*8.25 | Ignores barricades; Hunts guardians and players; melee poison attack |
| Gnoll Grenadier | 200 | 30 | 720 | 30  | 0 | Piercing/3 ; Burning*16.5 ; Bleeding*8.25 | Ignores barricades; Hunts guardians and players; grenade attack |
| Cyclops Mage | 200 | 40 | 300 | 30  | 1 | Piercing/4 ; Lightning/2 ; Fire/2 ; Ice/2 ; Burning*10 ; Bleeding*5 | Ranged attacker, fires magic seeking projectiles draining mana |
| Hobgoblin Shaman | 100 | 0 | 300 | 75  | 1 | Fire/2 ; Lightning/2 ; Ice/2 ; Burning*5 ; Bleeding*5 | Revives dead enemies |
| Mr. Moneybags | 800 | 0 | 200 | 1200 | 0 | Cutting/1.33 ; Piercing/5 ; Burning*40 ; Bleeding*20 | Very Heavy; Only appears on Endless Mode; Won't attack players or guardians; Immune to bleed, charm and polymorph |
| Fire Lord | 400 | 50 | 200 | 0  | 4 | Fire/5 ; Ice*2 ; Acid/2 ; Lightning/3 ; Piercing/4 ; Cutting/2 ; Explosive*2 | Spawns 4 Firelings on death; Very heavy; Immune to poison, burning and bleed |
| Fire Elemental | 150 | 25 | 300 | 0  | 2 | Fire/5 ; Ice*2 ; Acid/2 ; Lightning/3 ; Piercing/3 ; Cutting/2 ; Explosive*2 | Spawns 2 Firelings on death; Heavy; Immune to poison, burning and bleed |
| Fireling | 60 | 41 | 500 | 20  | 1 | Fire/5 ; Ice*2 ; Acid/2 ; Lightning/3 ; Cutting/2 ; Explosive*2 | Suicide bomber, targets players; Immune to poison, burning and bleed |
| Water Lord | 600 | 50 | 400 | 40  | 4 | Acid/4 ; Lightning/4 ; Piercing/4 ; Cutting/2 ; Fire*3 ; Explosive*2 | Leaves a puddle on death; Very heavy; Immune to poison, burning and bleed |
| Water Elemental | 300 | 25 | 300 | 30  | 2 | Acid/4 ; Lightning/4 ; Piercing/3 ; Cutting/2 ; Fire*3 ; Explosive*2 | Becomes a Water Lord after walking through a puddle; Leaves a puddle on death; Heavy; Immune to poison, burning and bleed |
| Waterling | 150 | 12.5 | 200 | 10  | 1 | Acid/4 ; Lightning/4 ; Cutting/2 ; Fire*3 ; Explosive*2 | Becomes a Water Elemental after walking through a puddle; leaves a puddle on death; Immune to poison, burning and bleed |
| Hobgoblin Healer | 100 | 0 | 300 | 75  | ? | Fire/2 ; Lightning/2 ; Ice/2 ; Burning*5 ; Bleeding*5 | Heals nearby damaged enemies |
| Ball and Chain | 800 | 40 | 300 | 50  | ? | Piercing/2 ; Burning*15 ; Bleeding*7.5 ; Physics*2 | Very Heavy; Buffs nearby orcs; Immune to charm |
| Yeti | 500 | 40|30 | 420 | 40  | ? | Burning*30 ; Piercing*1.25 ; Fire*3 ; Ice/5 | Heavy; hurls ice at range; enrages when damaged; Immune to freeze and frost |
| Goblin Sapper | 60 | 0 | 600 | 30  | 0 | none | Suicide bomber, targets traps and disables them for 10 seconds |
References